---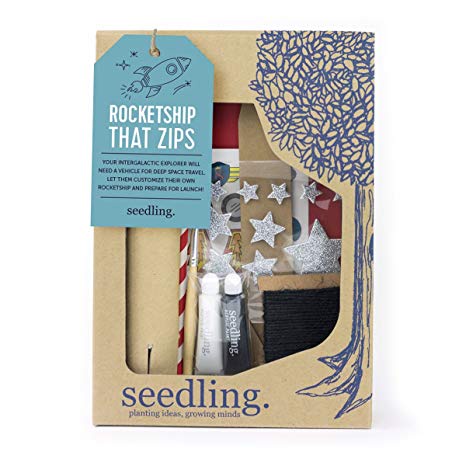 Seedling Rocketship that zips
---
SEEDLING ROCKETSHIP THAT ZIPS KIT DETAILS
"This is a test flight in Imagination...Over"
Buckle up, you are in for a seriously bumpy ride to creation station.
Build your custom rocketship and get ready to explore a galaxy that is light years away.
Once complete, imagine the journeys you can go on.
"Rocketship to Creation Station, come in Creation Station." This will be one trip you will want to make. "Creation Station to Rocketship, whats your ETA?" Build your ship and off you zip to places beyond your wildest dreams. There is no limit to your imagination as you zoom well past the sky, into beyond.
Whats in the box
Rocket Pieces
Adhesive Paper
Hemp Cord
Paint
Paintbrush
Foam Star Stickers
Rocketship Decals
Straw
Instructions
Learning Outcomes
Creative & Critical Thinking
Fine Motor Skills
Imagination
"Roger that...we are ready for take off."
Kids can design and build their own rocket ship, string up a path, and launch back and forth

Kit includes: rocket body and wings, adhesive paper, hemp cord, paint, paintbrush, foam Star stickers, rocket ship decals, striped paper straw, and instructions

Rocket ship that zips is recommended for ages 6+